I've been wanting to go to karaoke for a MINUTE.  Singing your heart out in front of strangers with the help of some liquid courage is my idea of a good time. When a flyer for Word of Mouth ended up in my email inbox I immediately RSVPed. Karaoke and  open bar… for free? Sign me up! Plus this edition of WOM was the "Bad Boy" themed. Between moving, and being a 21-year-old-generally-broke-college-student, I personally couldn't fade the $150+ for a decent (not even good) ticket for the Bad Boy Family Reunion tour, so this was as good as it was going to get.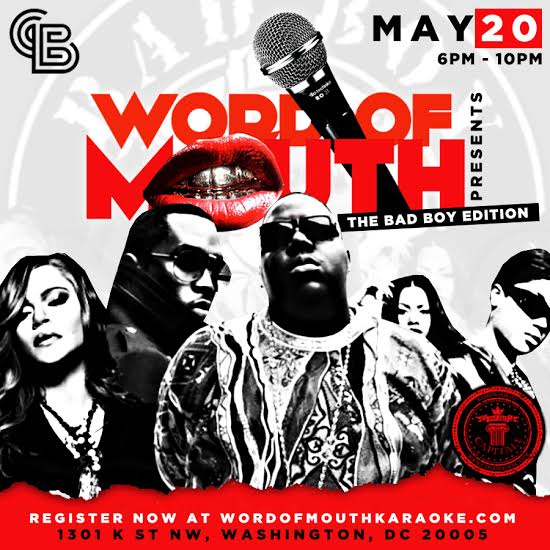 I was sad when I realized the event was from 6 pm- 10 pm  (and open bar was from 6-7) on a Friday. I don't get out of my internship until 6,  (plus changing clothes+ makeup, etc) so I didn't actually get there until 7:30. When I arrived at Capitale, the line was super long… and wasn't moving. After 30 minutes, we were finally let in.
The wait was well worth it though!! I really love DC's young, Black, professional crowd. Turning 21, and being able  to join this group was when I really began to enjoy living in DC. DC is the true melting pot; not many who live here are actually from here. At one event, you see so many Black people, from so many cities, cultures, backgrounds. It's amazing. Word of Mouth's turn out was very reflective of that.
We were greeted by the sounds of P. Diddy as we walked in. I'm super familiar with DJ Chubbe Swag, because he went to Howard. The main karaoke choices were Biggie, Lil Kim, or Diddy,  but Chubbe mixed it up. He played the best throwback songs, the whole party was a trip down memory lane. We heard Eve, R. Kelly, and hella songs that you don't even remember how you know the song, but you just do.
I only actually heard three people do karaoke, but they projected the lyrics of each song on the wall so the whole club could see… so everyone was singing along all night. I'm that guy that never knows the words to songs but will still sing a song, so this was perfect for me. I learned the lyrics to songs that I've just been making noise to for all these years.
Overall WOM was a huge success. When the clock hit 10 pm, no one wanted to go home. We we all just lingered until they made us leave. I do wish there was an after party, or some type of post event because the night was still young.
If and when there's another WOM event, I encourage everyone to go. You will have a great time. Plus Capitale has great mirrors. (;
xx, mirrorpicmami